murder mystery dinner party games - that YOU host and join in!
---
---
WORLDWIDE - Printable Murder Mystery Party Games :
UK ONLY - Boxed Murder Mystery Games - FREE 1st class delivery :
---
---
Murder in Transylavania murder mystery download kit, 8 adults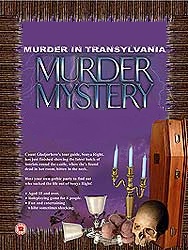 £ 11.99



suitable for ages : adults only
females/males : mixed
format : download - need to print out, you will NOT receive a boxed product but will get an email with the game attached or details on how to access the download
Scenario :
New official Murder Mystery Party download! Previously sold as the boxed game of the same name, you can download and play these classic high street games immediately. Full instructions included in download. You will need a printer to print this game, no box is shipped. You will receive an email after purchase with download instructions.

Who killed Sonya Right?

Welcome to Castle Gladjorhere, home of the world's one and only Transvampire with a soul! Visitors from all walks of life have come to witness the thrills and chills of this genuine Transylvanian house of horror, all of which will be revealed by the resident tour guide Sonya Right. But shortly after dinner Sonya is found in her room with two small puncture wounds in her neck. Host your own party to find out who sucked the life out of her!

Good times for groups: An excellent way to spend a role-playing evening with friends. Each party takes 2-3 hours to play. They are filled with intrigue, suspense, humour and the fun of playing both detective and suspect. This game is designed to be played by 4 male and 4 female players.
Suspects :
COUNT GLADJORHERE - Tranvestite Vampire (he'll bite and excite!)
SHEILA SUCKLE - Countess Gladjorhere (she drinks every last drop!)
HUMP ZEALOT - The Count's manservant (he's always on the job!)
ELLIE GANTT - International catwalk model (she's purr-fect!)
MR FRANKNBEANZ - The Count's chef (don't ask for his secret ingredients!)
BRIDE OF FRANKNBEANZ - His wife (she's always in stitches!)
PROFESSOR GRAF ENBERG - Academic (his theories always hit the spot!)
HEIDI SEEK - Local journalist (she's always exposing things!)
Contents :
Invitations to be sent to your guests, Complete instructions on how to host the party, Character playbook for each suspect, Costume suggestions, Menu suggestions, Clues, Solution to the murder.

---
about us | contact us | terms and conditions | sitemap | links
Copyright Maddison Games Ltd. Founded in 2003. Newport Pagnell, Buckinghamshire, MK16 9HG, United Kingdom