murder mystery dinner party games - that YOU host and join in!
---
---
WORLDWIDE - Printable Murder Mystery Party Games :
UK ONLY - Boxed Murder Mystery Games - FREE 1st class delivery :
---
---
Murder Mystery Party Case Files - Underwood Cellars, 1 to 20 people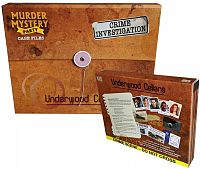 £ 16.99



availability: In Stock
despatched: same/next working day
by 1st class Royal Mail / courier - UK ONLY

suitable for ages : 14+
females/males : mixed
format : boxed - posted to you
Scenario :
For all the super sleuths out there, the new Murder Mystery Party Case Files has arrived and there is a murder to be solved!
Perfect for individuals or as a great dinner party game - the Cary Underwood cold case has been reopened and it is down to your team to solve the murder - With over 50 pieces of evidence, and hints and conclusions online, the case will take a true detective's mind.

You (and your optional team) play detective(s) and try and solve the crime by sifting through the evidence. Memo to the next detective :

It has been over 20 years since winemaker Cary Underwood disappeared. After the Napa earthquake, police discovered the secret chamber that hid the truth all these years. Cary was murdered. Your job is to solve the cold case mystery.

During a murder investigation a detective must answer 3 questions :
Motive, Means and Opportunity
Answer these questions to solve the case.

Hints and solutions are available online.
Contents :
Over 50 pieces of evidence including, victim and suspect photo's, crime scene photos, newspaper articles and more.

---
about us | contact us | terms and conditions | sitemap | links
Copyright Maddison Games Ltd. Founded in 2003. Newport Pagnell, Buckinghamshire, MK16 9HG, United Kingdom