murder mystery dinner party games - that YOU host and join in!
---
---
WORLDWIDE - Printable Murder Mystery Party Games :
UK ONLY - Boxed Murder Mystery Games - FREE 1st class delivery :
---
---
Death Mountain, 8 people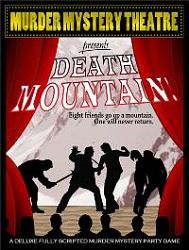 £ 11.99



suitable for ages : teenagers and adults
females/males : mixed
format : download - need to print out, you will NOT receive a boxed product but will get an email with the game attached or details on how to access the download
Scenario :
January. The Swiss Alps. Eight friends travel from around the globe for their annual reunion at a luxury mountain retreat. But before long they are snowed in and tempers begin to flare. By dawn, someone will be dead – murdered in cold blood by one of their closest friends. But who will be killed...and who will do the killing?
Suspects :
WINSTON BURCHILL – a British politician, renowned for passionate tirades against injustice and corruption.
LAUREL STREEP - an award-winning Australian actress, famous for her heart-wrenching performances.
HIROKAMI MUKARU - a Japanese novelist and samurai master, winner of the Nobel Prize for Literature.
ELLEN McCARTNEY – a Canadian round-the-world explorer, celebrated for discovering the lost Tibetan tribe of Yetlz.
VINCENT VAN VINCI - a French painter, lauded for his exceptional masterpieces and feared for his violent temper.
THERESA MATER - an American humanitarian, respected for her selfless dedication to tending the poor and hungry.
MIKKEL SHOEMAKER - a German racing driver, infamous for his love of women and fast cars.
OLGA PAVLOVA - a Russian ballerina, recognized as the most thrilling and glamorous dancer of the 21st Century.
Game Play Format :
Murder Mystery Theatre is a sophisticated murder mystery party game for players aged 12 to adult. The fully developed storyline encourages players to get more involved in the mystery, and with no "main" character or obvious victim, any one of the players could kill or be killed, increasing suspense throughout the course of the evening. The plot is peppered with red herrings and unexpected twists to keep even the sharpest amateur detectives guessing!

With an emphasis on spontaneity and performance, Murder Mystery Theatre encourages you to take your role-playing to a whole new level. Awards are provided for the Best Actor, Best Actress, Best Dressed Artiste, Most Lines Fumbled, Most Imaginative Use of Props, Player Who Took the Game Most Seriously, Player Who Took the Game Least Seriously, and Keenest Detective Mind. The host can even film the entire show!

Murder Mystery Theatre can also be used for large parties. Just enlist eight actors to perform the mystery, while the rest of your guests play detective from the audience. Print additional guest programmes and include them in the final round of accusations!

HOW IS IT PLAYED? - The host sends out invitations and costume suggestions, provides simple props (e.g. a whisky glass, an umbrella) and creates basic makeshift sets (e.g. a restaurant table, a park bench) as described in the Programme. Then players arrive in costume and Act One begins. Each Act contains a number of different evidence revealing scenes. Up to four players act in each scene using the scripts provided whilst the remaining players make up the audience.

During Act One, one of the characters is murdered by an unknown killer. But don't worry that the show's over! After their memorable death scene, that player returns in flashback scenes to reveal crucial evidence.

There is an 'intermission' between each Act, allowing food and drinks to be served and players to discuss 'the story so far'. At the end of Act Three, each player announces who they think is the murderer then the victim reads out the solution. The game finishes with the host presenting awards.
Contents :
Invitations
Costume suggestions
Programmes
Full performance script
Murder Mystery Theatre Awards for the best performances
Complete instructions for hosting the perfect party, including recipe suggestions!

---
about us | contact us | terms and conditions | sitemap | links
Copyright Maddison Games Ltd. Founded in 2003. Newport Pagnell, Buckinghamshire, MK16 9HG, United Kingdom