murder mystery dinner party games - that YOU host and join in!
---
---
WORLDWIDE - Printable Murder Mystery Party Games :
UK ONLY - Boxed Murder Mystery Games - FREE 1st class delivery :
---
---
Murder at the Manor, 6 to 14 people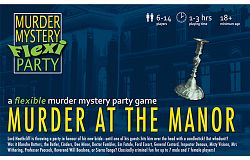 £ 11.99



suitable for ages : teenagers and adults
females/males : mixed
format : download - need to print out, you will NOT receive a boxed product but will get an email with the game attached or details on how to access the download
Scenario :
You're invited to Heathcliff Manor, where Lord Heathcliff is hosting a dinner party in honour of his new bride. All the usual suspects are here - the cook, the professor, the butler - as well as some unusual ones. But before anyone can toast his happiness, Lord Heathcliff is killed with the candlestick in the pool room. Host your own party to find out who snuffed out his candle!
Suspects :
Female suspects:
EM FATALE - the victim's young, beautiful widow
MRS WITHERI
NG - the silent but deadly housekeeper MISTY VISIONS - a wild gypsy fortune-teller
BLANCHE BATTERS - the cook with a mean left hook
CINDERS - the pretty put-upon maid DEE MINOR - a world-famous concert violinist
SIERRA TANGO - the only police constable in the village

Male suspects:
BUTLER - the victim's butler
INSPECTOR DENAUX - a French private detective
PROFESSOR PEACOCK - an academic and "friend" of the victim
REVEREND WILL BEEDONE - the local vicar
DOCTOR FUMBLES - the village doctor
GENERAL CUSTARD - an ex-Army General turned security specialist
FORD ESCORT - the victim's chauffeur
Contents :
Printable contents:
Host Guide - complete instructions for running the party.
Character playbooks for all fourteen suspects.
Invitations and Costume Suggestions. Question menus. Whodunit cards.

---
about us | contact us | terms and conditions | sitemap | links
Copyright Maddison Games Ltd. Founded in 2003. Newport Pagnell, Buckinghamshire, MK16 9HG, United Kingdom