murder mystery dinner party games - that YOU host and join in!
---
---
WORLDWIDE - Printable Murder Mystery Party Games :
UK ONLY - Boxed Murder Mystery Games - FREE 1st class delivery :
---
---
Murder by Magic, murder mystery party download kit, 8 adults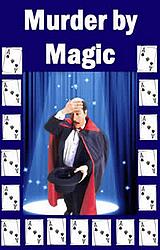 £ 9.99



suitable for ages : adults only
females/males : mixed
format : download - need to print out, you will NOT receive a boxed product but will get an email with the game attached or details on how to access the download
Scenario :
Lord David Coppertone cordially invites you to the 50th Annual Convention of the Magic Ring to be held at his new home Magic Mansion. During the Convention some of the world's top magicians, conjurers, illusionists, escapologists and mystics will be amazing the other guests with their amazing talents.

The grand culmination of the Convention will be an attempt by Lord David to perform one of his most dangerous stunts, an escape from a genuine medieval Iron Maiden torture instrument. Watch him if you dare!


Characters :
Hugh D Knee – World famous American escapologist
Kristal Ball – Swedish fortune teller
Wollie Wakeup – Famous German hypnotist
Clair Voyant – French medium and Tarot Card reader
Luigi Board – Italian master of the occult
Sheezar Ventriloquist – Australian Ventriloquist
Roland Butter – Waiter and butler to Lord David
Madj Ikal – Russian lady magician
Contents :
Game Instructions, Invitations, Costume Suggestions, Player Slips, Player Clues, Solution, Name tags, .mp3 Audio Introduction (optional)

---
about us | contact us | terms and conditions | sitemap | links
Copyright Maddison Games Ltd. Founded in 2003. Newport Pagnell, Buckinghamshire, MK16 9HG, United Kingdom