murder mystery dinner party games - that YOU host and join in!
---
---
WORLDWIDE - Printable Murder Mystery Party Games :
UK ONLY - Boxed Murder Mystery Games - FREE 1st class delivery :
---
---
Murder in Hollywoodland Directors Cut, 4 to 12 adults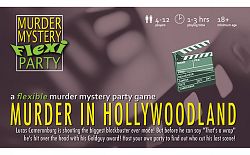 £ 11.99



suitable for ages : adults only
females/males : mixed
format : download - need to print out, you will NOT receive a boxed product but will get an email with the game attached or details on how to access the download
Scenario :
You're invited to a star-studded yacht party, as Lucas Cameronburg is shooting the biggest blockbuster ever made! But before he can say "That's a wrap!", he's hit over the head with his Goldguy award and pushed overboard! Host your own party to find out who cut Cameronburg from his own film!

The Director's Cut is played across three acts with more mystery and now there's even audio! Optional audio files can be downloaded to set the scene and use in place of evidence, allowing for a more immersive experience.
Suspects :
Female suspects:
BRIDGET BONES - a flaky but brilliant anthropologist
BUFFY SPEARS - a rocking hot vampire-slaying pop princess
BUNNY BOILER - a Playdoll model with homicidal tendencies
DANA SCULLERELLA - an FBI agent working undercover as a space sexpot
MARILYN GUNGHO - a screen siren with a mean karate chop
JEM HUNTER - a tomb raiding heiress with a taste for danger

Male suspects:
ARNIE DENIRONATOR - a tough talking action hero of Sicilian descent
DEADWOOD CULLEN - a romantic heart-throb with a dark side
DR EVIL KERNEVIL - a stunt man with a plan for world domination
ELI CRONENBERG - a hip young horror movie director with a chip on his shoulder
JACK BLACKSPARROW - a barely coherent pirate who likes to rock
SHERLOCK UPYODAUGHTERS - a womanising detective who has no business being here

---
about us | contact us | terms and conditions | sitemap | links
Copyright Maddison Games Ltd. Founded in 2003. Newport Pagnell, Buckinghamshire, MK16 9HG, United Kingdom