murder mystery dinner party games - that YOU host and join in!
---
---
WORLDWIDE - Printable Murder Mystery Party Games :
UK ONLY - Boxed Murder Mystery Games - FREE 1st class delivery :
---
---
A Game of Murder in Moordoor, 4 to 12 adults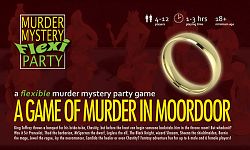 £ 11.99



suitable for ages : adults only
females/males : mixed
format : download - need to print out, you will NOT receive a boxed product but will get an email with the game attached or details on how to access the download
Scenario :
Young, cruel King Toffrey is stabbed with a dagger in the throne room, but which of the unlikely band of revellers did it? Gather round the great fireplace with knights and ladies, sorcerers and thieves, elves, dwarves and dragon-slayers, and embark on a perilous - and hilarious - quest to discover who slayed the king!
Suspects :
Female suspects:
CHASTITY - the King's intended wife
JEWEL - a fiesty, fearless rogue
CANDIDA - the caring healer
BERNIE - a mage-in-training
SHEENA PROUDLEGS - the shieldmaiden
ICY DEADPEEPS - the creepy necromancer next-door

Male suspects:
SHAZAM - the wise-ish wizard
THUD - a barbarian of big sword and small words
LEGLESS - the drunken elf
MCSPORRAN - a dwarf with anger management issues
SIR PRANCELOT - the vain knight
THE BLACK KNIGHT - a hopping mad sword-for-hire

---
about us | contact us | terms and conditions | sitemap | links
Copyright Maddison Games Ltd. Founded in 2003. Newport Pagnell, Buckinghamshire, MK16 9HG, United Kingdom