murder mystery dinner party games - that YOU host and join in!
---
---
WORLDWIDE - Printable Murder Mystery Party Games :
UK ONLY - Boxed Murder Mystery Games - FREE 1st class delivery :
---
---
Murder on Starship Deathstation, 4 to 12 adults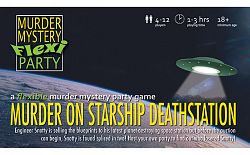 £ 11.99



suitable for ages : adults only
females/males : mixed
format : download - need to print out, you will NOT receive a boxed product but will get an email with the game attached or details on how to access the download
Scenario :
Join our major sci-fi mashup homage, as Chief Engineer Snotty is selling the blueprints to his latest planet destroying space station! But before the auction can begin Snotty is found in the engine room, spliced in two! Host your own party to find out who turned Snotty into a red shirt!
Suspects :
Female suspects:
PRINCESS LAYER - Royal Princess
YOO HOO - Communications Officer
RIP LEIGH - Alien ship survivor
STARSTRUCK - Starfighter Pilot
DR FOO - Dr You Know..?
ROBERTA - An Android

Male suspects:
CAPTAIN BIRK - Starship Captain
HAN SANDWICH - Lovable Rogue
GOADER - Sauce Master
VROCK - Culkin Officer
CAPTAIN DICK DEKKER - Android hunter
DAH FADER - Sauce Master

Game Play Format :
Play with ANY combination of players (as long as you have the number of players as shown above). No-one is 'bolted on', everyone's a suspect. The murderer is chosen on the night so the party still goes on if someone can't make it! Familiar question and answer round play for boxed game veterans, but with added flexibility!
Contents :
Complete instructions on how to host the party. Character playbooks for all twelve suspects. Costume suggestions. Clues. Solutions to the murder. Invitations to be sent to your guests.

---
about us | contact us | terms and conditions | sitemap | links
Copyright Maddison Games Ltd. Founded in 2003. Newport Pagnell, Buckinghamshire, MK16 9HG, United Kingdom