murder mystery dinner party games - that YOU host and join in!
---
---
WORLDWIDE - Printable Murder Mystery Party Games :
UK ONLY - Boxed Murder Mystery Games - FREE 1st class delivery :
---
---
A Slice of Murder, 6 to 8 people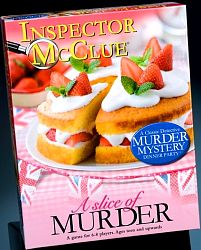 £ 15.99



availability: In Stock
despatched: same/next working day
by 1st class Royal Mail / courier - UK ONLY

suitable for ages : teenagers and adults
females/males : mixed
format : boxed - posted to you
Scenario :
Painton Place is an 18th-Century house built by Sir John Painton, the first baronet, in Rutting-on-the-Rise, a beautiful if isolated corner of Norfolk. It's just the place to spend a couple of days on a cooking holiday - a weekend mini-bake, as it's advertised. But the rural tranquility is shattered when celebrity chef Francis 'Franny' Craddock is found dead late on Saturday night. Particularly when it turns out that he's been murdered.

Suspicion falls on the guests. But who would have wanted to kill him? And what does this have to do with the legendary Painton Plunder, supposedly brought back from India by the eccentric fourth baronet, Sir Richard Painton?
Suspects :
THERESA PAINTON - the only child of the last baronet, she is returning to the house where she grew up.
LIZZY LIGHTWATER - a fearless equestrian, a point-to-point rider and the first woman to be Master of the Cerberus Foxhounds.
FIZZY CRUICKSHANK - Theresa's childhood friend, now a succesful and popular historian.
JUDY DRENCH - a librarian from Birmingham who won this weekend break in a magazine competition.
PAUL BABYLON - the restaurateur who bought Painton Place last year and is your host for this weekend.
BORIS JEFFERSON - Theresa's fiancÚ who works for an investment bank in London.
REV PIERS SHORTHOSE - a vicar from Yorkshire with a passionate interest in baking.
BARRY 'MISTER' CHIPS - a comedian and entertainer who owns the amusement arcade in the nearby resort of Rutting-on-Sea.
Game Play Format :
This game consists of 3 rounds in two parts. In the first part of each round, the players read out from their booklets, rather like you would in a play (scripted). In the 2nd part of each round the players ask each other questions and then answer accordingly (as scripted in their character booklets). Further questioning may occur (but this is usually not necessary). Secret clues are handed to certain players at points in the game and revealed, when accusations are made, or questions asked of other players. The murderer(s) find out who they are at the beginning of round 3 (so play the first two thirds of the game not knowing it is them).
Contents :
Party planner booklet with game rules, recipes, tips for music and decorating.
Booklet for each character, including their roles, background information and a few tasty secrets.
Place card for each character.
Party invitations and envelopes for each character.
6 secret clues.
CD with introduction, scene setter, summary of events and solution to the crime., Also required in order to play (but not included) : CD player

---
about us | contact us | terms and conditions | sitemap | links
Copyright Maddison Games Ltd. Founded in 2003. Newport Pagnell, Buckinghamshire, MK16 9HG, United Kingdom