murder mystery dinner party games - that YOU host and join in!
---
---
WORLDWIDE - Printable Murder Mystery Party Games :
UK ONLY - Boxed Murder Mystery Games - FREE 1st class delivery :
---
---
A Very Merry Christmas Murder, 4 to 8 people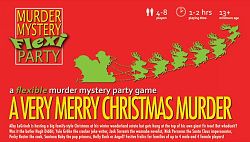 £ 11.99



suitable for ages : teenagers and adults
females/males : mixed
format : download - need to print out, you will NOT receive a boxed product but will get an email with the game attached or details on how to access the download
Scenario :
Albi LeGrinch, the world's most successful christmas tree merchant, is hosting a big family-style Christmas at his winter wonderland estate. But before any presents can be ripped in the large glass-fronted foyer of Albi's luxury mountain-side mansion, he's found hanging from the top of his own giant Christmas tree with industrial grade tinsel! Who committed such a ho-ho-ho horrific deed!
Suspects :
Female suspects:
PERKY BASTER - the cook
SANTANA BABY - the pop princess
ANGEL - the choir girl gone bad from the valleys
HOLLY BUSH - thorny hedge fund manager

Male suspects:
HUGH DIDDIT - the butler
YULE GRÖHN - Christmas cracker joke writer
JACK TORRENTS - novelist and computer hacker
NICK PERSONAS - Santa Claus impersonator

---
about us | contact us | terms and conditions | sitemap | links
Copyright Maddison Games Ltd. Founded in 2003. Newport Pagnell, Buckinghamshire, MK16 9HG, United Kingdom